Appalachian Conservation Corps engages individuals in positions with federal, state and local land management agencies and environmentally focused non-profits working on specialized projects. Individual Placements (interns) are paired with a local supervisors and these positions offer more technical, hands-on experience in the work of these organizations or agencies and many times provide the training necessary to secure long term employment in these fields.
The type of position we offer can include:
Invasive Plant Management
Education and Interpretation
Digital Design and Science Communications
Historical Research and Preservation
Cultural and Natural Resource Management
Land Monitoring/GIS
During your term, you will be trained by conservation professionals and get hands-on experience to build on your skillset, opening doors to further your career. Depending on your position, you may receive beneficial trainings, certifications, and other professional development opportunities.
Open Positions
Title
Position Summary
Location
Dates
Application
Interpretation Individual Placements • C&O Canal National Historical Park
Share the stories of C&O Canal through a wide variety of interpretive and educational programming services.
Williamsport, MD; Great Falls, MD; or Cumberland, MD
4/17/2023 - 3/29/2024 (50 Weeks)

4/17/2023 - 10/13/2023 (26 Weeks)

Click Here



Click Here
Communications Liaison Individual Placement• Shenandoah National Park
Be a visual storyteller to provide media coverage and promote the important work of Shenandoah and its partners.
Luray, VA
5/15/2023 - 11/10/2023 (26 Weeks)
Click Here
Women's Interpretive Media Individual Placement • Shenandoah National Park
Amplify the stories of the women who helped shape Shenandoah and held national significance.
Luray, VA
5/15/2023 - 11/10/2023 (26 Weeks)
Click Here
Living History Individual Placement • Appomattox Court House National Historical Park
Engage and educate the public through living history programming.
Appomattox, VA
5/15/2023 - 8/18/2023 (14 Weeks)
Click Here
Maintenance and Resource Management Individual Placements • Antietam National Battlefield
Learn more about a career in park maintenance or resource management and land stewardship.
Sharpsburg, MD
5/15/2023 - 11/10/2023 (26 Weeks)


5/29/2023 - 8/4/2023 (12 Weeks)



Click Here



Click Here
Resource Management Individual Placements • Monocacy National Battlefield
Spend your summer outside with a team focused on preserving a historic space.
Frederick, MD
5/15/2023 - 8/4/2023 (12 Weeks)
Click Here
Resource Education and Visitor Services Individual Placements • Monocacy National Battlefield
Develop your communication skills with this fun summer opportunity at a National Park Service site.
Frederick, MD
5/29/2023 - 8/18/2023 (12 Weeks)
Click Here
Field Biologist and Outreach Individual Placement • Kelleys Island Field Station
Spend your summer immersed in the natural world, living and working on a unique island area.
Kelleys Island, OH
5/29/2023 - 8/18/2023 (12 Weeks)
Click Here
Environmental Steward Individual Placement • Lake Erie Islands Conservancy
Advocate for and preserve the scenic and natural areas at a unique Island area.
Put-In-Bay, OH
6/12/2023 - 8/12/2023 (10 Weeks)
Click Here
New positions are being listed frequently! If you are interested in keeping your resume on file and being contacted if a position opens up that fits your skillset and preferred timeframe, contact Maddie, the Individual Placements Program Manager at minterdonato@conservationlegacy.org.

INDIVIDUAL PLACEMENTS IN THE NEWS
Who tells the stories?

January 19th, 2023 | WASHINGTON, D.C. - Read full article: Despite my long history with National Parks, I didn't realize that I was missing a core personal connection with our public lands — learning about Chinese American history. While I learned a lot about white American history, from the battles of the Civil War to colonial settlement, it was rare that I came across exhibits featuring my own cultural identity or history. But, I didn't really question it. I just thought there weren't that many stories to tell. Or perhaps the stories would fall on deaf ears...

Meet our 2022 Environmental Science Intern – Reggie Payne

July 6th, 2022| RICHMOND, VA- Press Release: Meet Reggie Payne, a current Virginia Commonwealth University student working with the James River Association this summer to assist with the James River Watch program.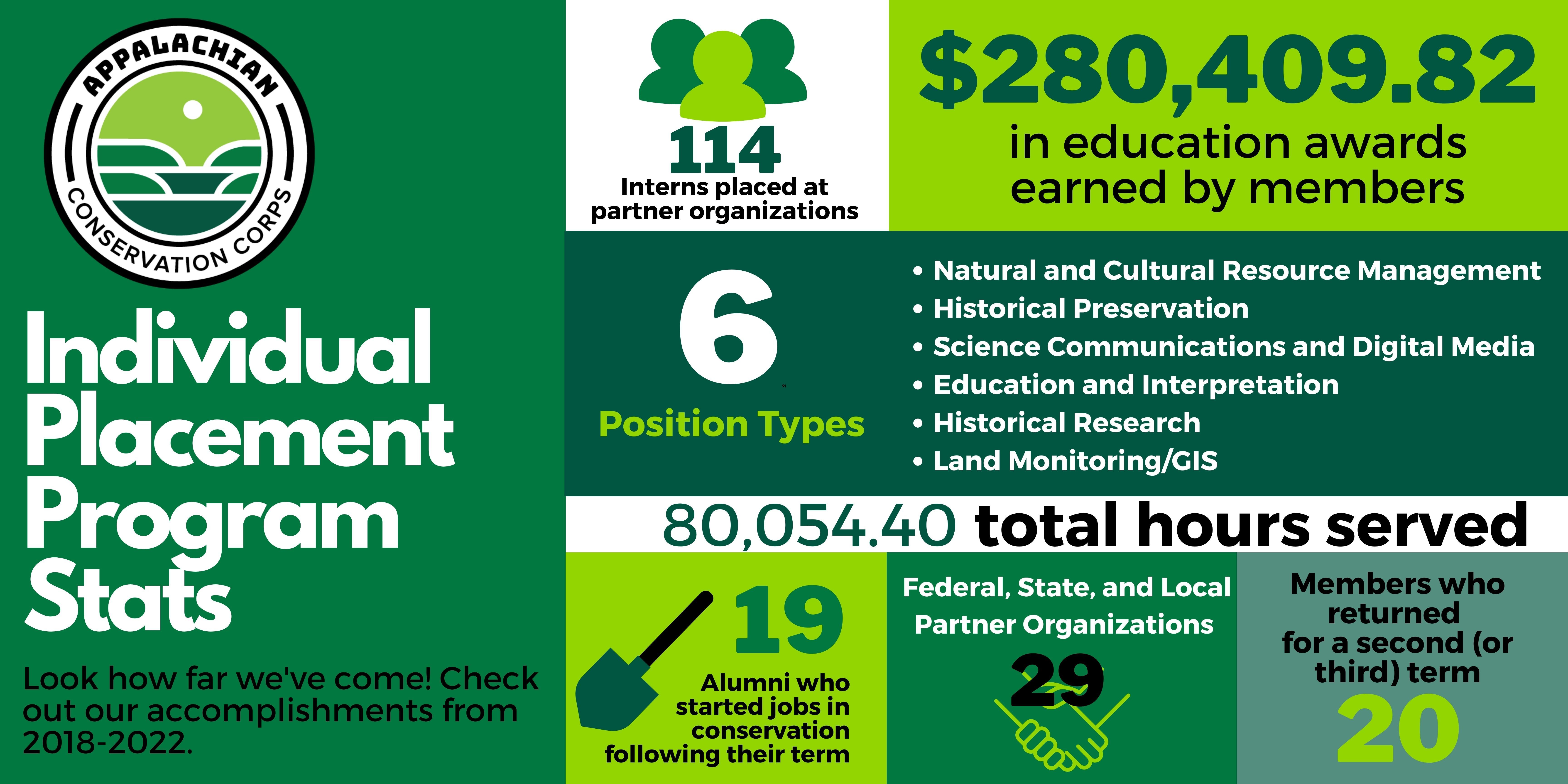 WHO WE SERVE
Appalachian Conservation Corps (ACC) emphasizes the recruitment and engagement of diverse teams and individuals who learn from each other and their projects in a supportive environment. In selecting participants, ACC encourages all types of diversity including, but not limited to; race, ethnicity, gender, sexual orientation, gender identity, age, social-economic, and disability.
Appalachian Conservation Corps also emphasizes the engagement of local individuals who represent the communities in which they serve. ACC intentionally searches for funding sources and program options to support the goal of offering experiences to a wide range of participants.