PROJECT PARTNERS
Appalachian Conservation Corps can help you accomplish critical conservation projects while providing young adults from the regional community an opportunity to learn about land management issues and challenges. Partnering becomes a win/win situation for the community, ACC members, and land managers by providing meaningful opportunities for young people to complete important community and natural resource projects. ACC has a successful track record of completing conservation projects throughout Virginia, West Virginia, and the surrounding area.

At ACC, we have a commitment to producing quality work that always meets or exceeds our partner expectations.
We are a job training and youth development organization providing our members with outdoor experiences and employment opportunities through national service. Our goal is to promote individual responsibility and ethical behavior, instill solid work habits and attitudes, and empower them to change their lives, their communities and their environment through conservation work that benefits us all.
Our approach to reaching this goal is to start by sending out well-equipped crews with experienced leaders, followed by full support from our office staff. We cultivate an environment of clear and constructive communication between our organization and land management agencies.
PROJECT PARTNERSHIPS
National Park Service
US Forest Service
The Nature Conservancy
...and many other conservation organizations!
WHERE WE WORK
ACC may work on projects across Virginia, West Virginia, Ohio, and some locations in Pennsylvania.
PROJECT PARTNER REPORTS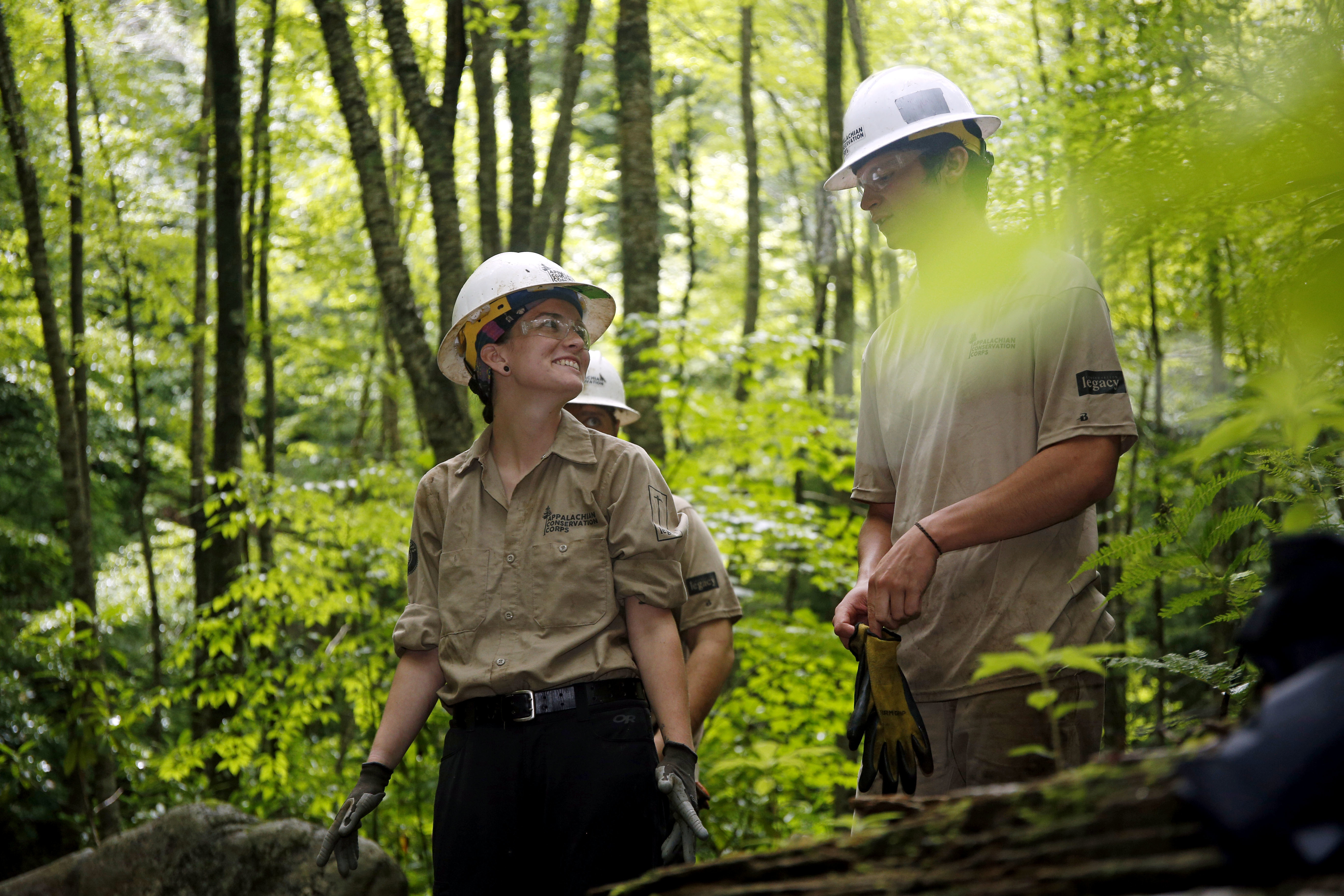 Project Capacity
Trail work • Historical Preservation • Invasive Species Management • Developed Recreation Maintenance • Resource Monitoring • Fencing • Sign and Kiosk Installation • Erosion Mitigation • Individual Placements/Internships • Backcountry Support • And much more!
SUPPLIES AND MATERIALS
ACC arrives on project sites with all group camp equipment (housing) necessary to outfit a crew, including: uniforms, PPE, personal day packs, first aid equipment, transportation and a standard compliment of tools to meet the needs of most projects. Rarely, ACC may need to borrow specialty tools such as tracked equipment and engine powered rock tools. ACC is typically supplied by its partner park or program some form of radio communication to allow the crew to contact Park partners in case of emergency situations.
BENEFITS OF PARTNERING WITH ACC
Individual
On-the-ground conservation work experience
Technical trainings and work skills development
Exposure to potential employers
Teamwork and leadership skills development
AmeriCorps Education Award and weekly stipend
Community
Potential career opportunities for local young people
Resource to address conservation and community needs
Work that directly benefits local and regional environments
Cost effective completion of critical projects for partner
PROJECT COSTS
Project costs are dependent a number of factors including crew size, project duration and type of project. Please contact us to get specific information about what your project would cost. For additional details about how to partner with us, what we provide, what a partner provides, what it costs for a crew or intern or to ask other questions about how ACC can interact with you and your agency/organization please contact us!
HOW TO PARTNER WITH ACC
ACC crews operate for at least one week on a given site. Please have a detailed work plan and timeline in mind with potential funding sources. ACC is a proud partner of several non-profit and public land managers. Our crews and individual placements have the skills and tools to help you complete your conservation and recreation project goals. Please contact us!
Zach Foster, Corps Director
zach@conservationlegacy.org or (540) 383-1297
WHO WE SERVE
Appalachian Conservation Corps (ACC) emphasizes the recruitment and engagement of diverse teams and individuals who learn from each other and their projects in a supportive environment. In selecting participants, ACC encourages all types of diversity including, but not limited to; race, ethnicity, gender, sexual orientation, gender identity, age, social-economic, and disability.
Appalachian Conservation Corps also emphasizes the engagement of local individuals who represent the communities in which they serve. ACC intentionally searches for funding sources and program options to support the goal of offering experiences to a wide range of participants.