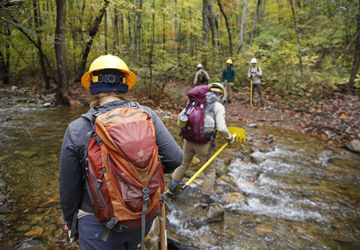 APPLICANTS
The Appalachian Conservation Corps (ACC) seeks applicants who are interested in fully committing to the program, who are willing to overcome any challenges and those who will take advantage of the opportunities, skills and trainings that are offered throughout their term of service. ACC seeks those who will benefit from and contribute the most to the program; previous experience is not required for most positions.
Current Openings
Please see the table below for open positions with ACC. Click the 'Apply Now' link for more information and instructions to apply. Good luck! 
Please contact accrecruiting@conservationlegacy.org if you have any questions.
WHO WE SERVE
Appalachian Conservation Corps emphasizes the recruitment and engagement of diverse teams and individuals who learn from each other and their projects in a supportive environment. In selecting participants, Appalachian Conservation Corps encourages all types of diversity including, but not limited to; race, ethnicity, gender, sexual orientation, gender identity, age, social-economic, and disability.
Appalachian Conservation Corps also emphasizes the engagement of local individuals who represent the communities in which they serve. Appalachian  Conservation Corps intentionally searches for funding sources and program options to support the goal of offering experiences to a wide range of participants.