Youth Conservation Crews
ACC Youth Crews introduce youth and young adults aged 16-18 to community service and resource conservation through hands-on project work. Projects may include trail construction & maintenance, habitat improvement, improvements to recreation access, re-vegetation, and much more. Through a combination of education, service, and professional development, ACC Youth Crews provide a well-rounded, challenging, productive, and beneficial experience.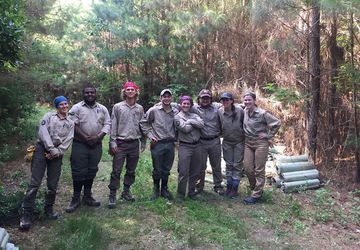 Get outdoors, work hard, get things done. Through the sweat, bugs, and physical work, it may not always be easy, but it's great.
Youth crews typically run during the summer months - June, July, and/or August. Applications will be accepted on a rolling basis starting in late February.
Check back soon for more details or reach out to ACCrecruiting@conservationlegacy.org!
WHO WE SERVE
Appalachian Conservation Corps (ACC) emphasizes the recruitment and engagement of diverse teams and individuals who learn from each other and their projects in a supportive environment. In selecting participants, ACC encourages all types of diversity including, but not limited to; race, ethnicity, gender, sexual orientation, gender identity, age, social-economic, and disability.
Appalachian Conservation Corps also emphasizes the engagement of local individuals who represent the communities in which they serve. ACC intentionally searches for funding sources and program options to support the goal of offering experiences to a wide range of participants.